Introduction
It's been over 3 years since I covered Colombian gold miner GCM Mining Corp. (OTCQX: TPRFF) on SA, and several of my readers have recently asked me for my opinion on this company.
GCM Mining is currently trading at just 6x P/E on a TTM basis, and its dividend yield is close to 5%. In my opinion, the company seems cheap at the moment, but it is crucial for them to increase the reserves of Segovia Operations this year. Toroparu is a good project, but any delays or cost overruns could cause problems. Let's review.
Presentation of the activity and finances
GCM Mining, formerly known as Gran Colombia Gold, owns the Segovia Operations gold mining complex in Colombia, which consists of several high-grade mines, including El Silencio, Sandra K, Providencia and Carla. The company also owns the Toroparu gold project in Guyana.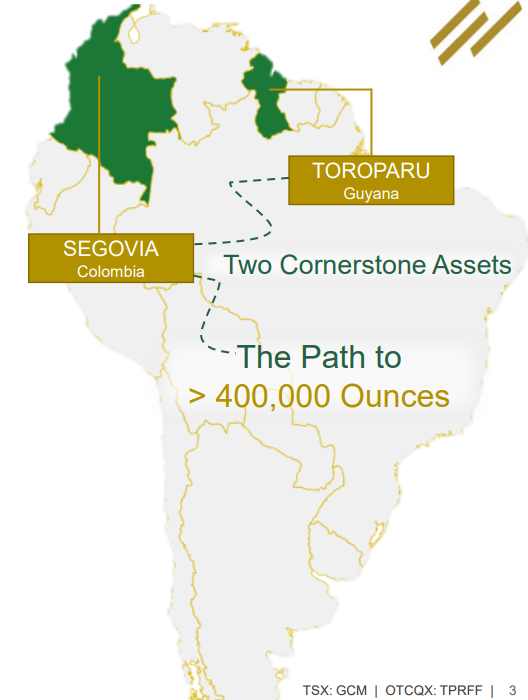 Segovia Operations covers an area of ​​approximately 9,000 hectares and over 6 million ounces have been produced from its mining titles in over a century. The mining complex currently produces approximately 200,000 ounces of gold per year and is among the highest-grade gold producers in the world, with head grades in excess of 12 g/t. However, all-in sustaining costs increased due to increased material costs as well as investments in exploration and mine development.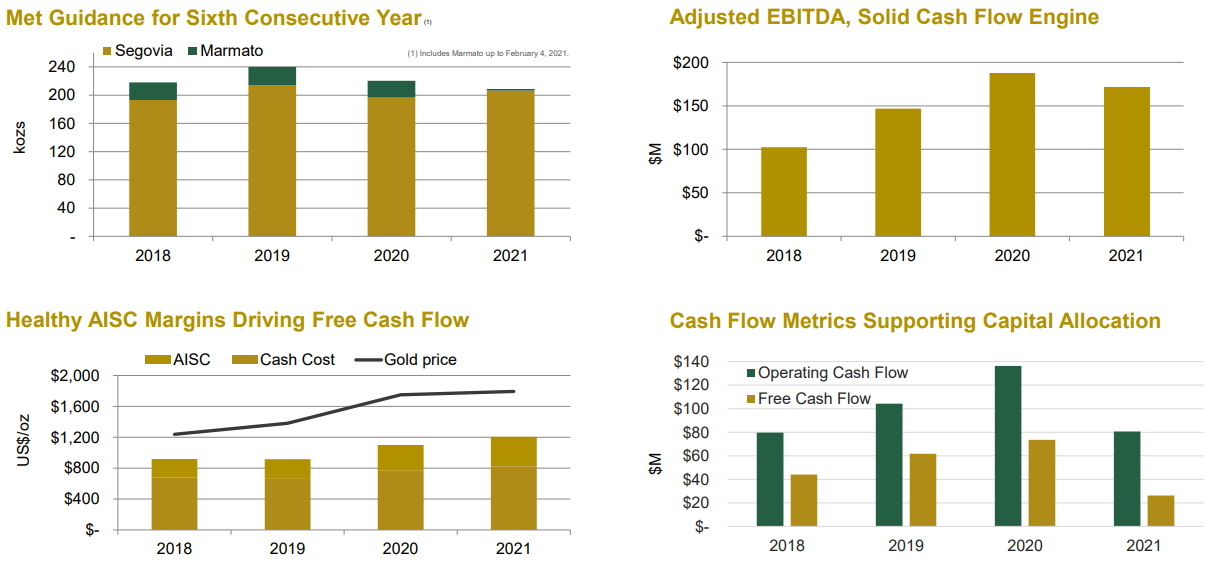 There are a total of 27 known veins at Segovia Operations, and GCM Mining is currently only exploiting 3 of them. The Achilles heel of this mining complex is its reserves and the company has been trying to inflate them for years. In 2021, GCM Mining completed approximately 97,000 meters of drilling at Segovia Operations and plans to drill an additional 91,000 meters in 2022. The latest technical report showed that the project has proven and probable reserves of just 744 koz of gold, which means that the mine life is less than 4 years at the moment.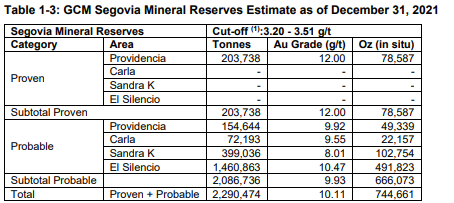 However, the exploration potential is good since the measured and indicated resources are 1.38 Moz of gold. Additionally, Segovia Operations had an inferred resource of 1.6 Moz as of December 2021.

Still, the project is not that valuable in its current state, as the net present value stands at $241.6 million at $1,650 an ounce of gold. Additionally, gold production could drop significantly in 2023 unless GCM Mining manages to convert more resources into reserves soon.

And maintaining high free cash flow is crucial, as GCM Mining raised $300 million through the issuance of 6.875% senior unsecured notes due 2026 to fund Toroparu's development. This is a major project that will require initial costs estimated at $355 million according to a Preliminary Economic Assessment (PEA) study published in January 2022. It will take approximately 2 years to build this mine, which means that any delays or cost overruns could create funding problems for GCM Mining.
The main financial numbers look good, as the NPV at $1,500 per ounce using a 5% discount rate is $794 million. I think a conservative valuation for Toroparu at this point would be 0.3x NAV, which translates to around $400 million at the current gold price.


Regarding the balance sheet of GCM Mining, the situation looks good as the company had $315.1 million in cash in March against debts of $311.3 million.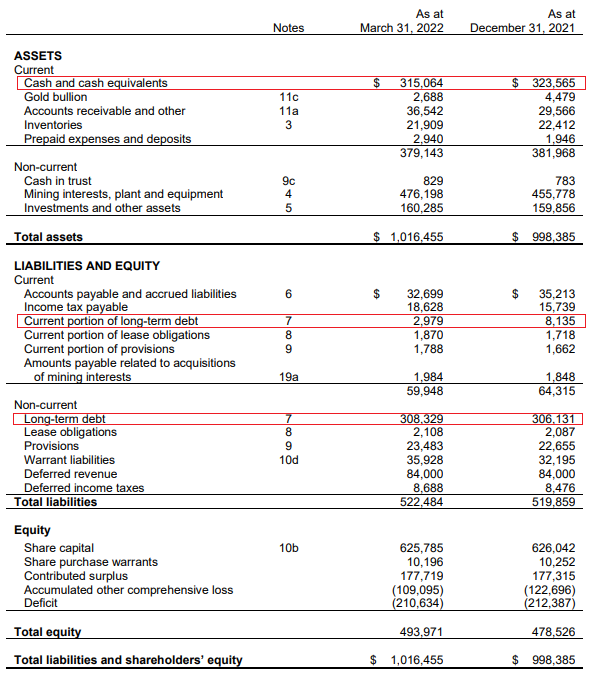 In addition, GCM Mining holds a 44.3% stake in Aris Gold (OTCQX:ALLXF) and a 28.6% stake in Denarius Metals (OTCPK:DNRSF). These stakes have a market value of $92.1 million at the time of writing.
All in all, if you combine the full NPV of the Segovia operations, 0.3x the NPV of Toroparu, and the value of the stakes in Aris and Denarius, you'd get a valuation of around $730 million. This equates to approximately $7.50 per GCM Mining share. And to top it off, the company pays a monthly dividend of CA$0.015 (0.012) per share, which means it brings in nearly CA$1.5 million ($1.2 million) of free cash flow to investors. shareholders each month.
Drawing our attention to the risks for the upside case, I think the main one is that gold prices could continue to crash due to interest rate hikes across the world.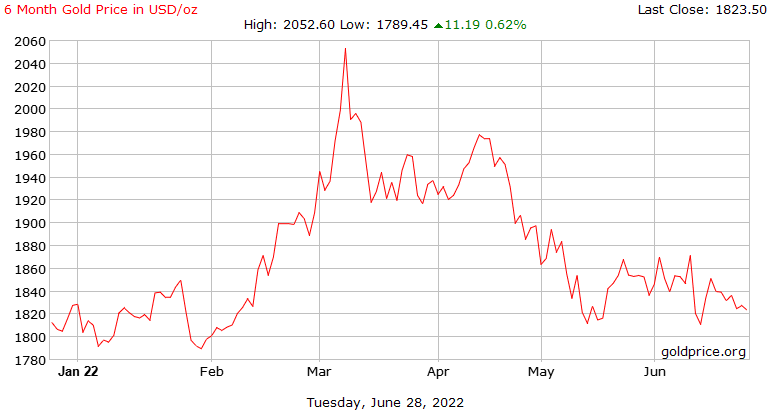 Still, I think gold prices are likely to do well over the next few years – this metal generally does well during periods of high inflation. According to a 2021 study by researchers from Man Group (OTC:MNGPF) and Duke University titled "The Best Strategies for Inflationary Times", the yellow metal had an average annualized return of 13% in the 8 inflationary regimes in the United States since the start of World War II, when average annual inflation was above 5%.

Takeaway for investors
In my opinion, GCM Mining looks undervalued today based on the NPV of its projects as well as the market value of its stakes in Aris and Denarius. I think it's likely that Segovia Operations' mine life will increase significantly over the next two years and that Toroparu could become the company's new key project. That being said, I believe it is crucial for the company to keep Segovia Operations' annual production above 200,000 ounces of gold in order to prepare for potential delays and cost overruns at Toroparu.
Overall, GCM Mining looks cheap at the moment and I think the company should be trading above $7.50 per share. However, it is crucial that gold prices stop falling for the stock price to regain momentum. In my opinion, high inflation could boost interest in gold investments and thus gold prices.