By Mark Brown*
Central banks focus on reducing inflation
Reserve Bank of New Zealand among first to hike rates and now others are moving fast
Sharp interest rate hikes are now largely priced into financial markets
Lower inflation is the best outcome for businesses and ultimately households
We think expectations of a cash rate of 4.6% by May 2023 are overdone, although markets will continue to watch inflation closely
During 2022, inflation around the world continued to rise and challenged the earlier expectations of many central banks that this phenomenon would be transitory. The aftermath of the war in Ukraine, tight labor markets, ongoing supply chain issues and policy-driven consumer demand all worked in sync. Central banks, after a period of reluctance, fear that the rise in measures of underlying inflation will affect higher long-term inflation expectations.
Stifling excess demand now and normalizing monetary conditions is likely to be less painful than letting inflation rise further.
To the credit of the Reserve Bank of New Zealand (RBNZ), they were one of the first banks to recognize the danger of rising inflation expectations and began raising the official exchange rate (OCR) in October last. They now have the OCR at 2.0%, which is broadly at a level they consider neutral. However, neutral rates may not bring inflation back to a target range of 1% to 3% within an acceptable time frame. Therefore, in its May monetary policy statement, the RBNZ projected the OCR to rise to 3.8% by mid-2023 as it takes a "resolute" approach to managing inflation expectations. .
This week, the US Federal Reserve raised the fed funds rate by 0.75% to 1.5%-1.75% (the Fed sets a range for the fed funds) as US inflation continued to rise. rise, with the latest data showing consumer prices rising 8.6%. The path of US interest rates is a crucial factor influencing global bond markets over the longer term and serving as an anchor for equity valuations.
Global markets are pricing in interest rate hikes in all major economies other than Japan and China. In New Zealand, the local bond market priced in rate hikes earlier than elsewhere, which could imply greater stability in New Zealand as other markets catch up. However, the New Zealand market continues to raise interest rate expectations and, despite some pullback in recent trading sessions, the OCR is expected to reach over 4.5% in May 2023. is almost 1% above the level expected by the RBNZ. We think the market is bearish in this projection.
Households are already feeling the brunt of the rising cost of living and mortgages being repriced at higher interest rates. Consumer confidence is very low and the housing market is slowing down quite quickly. In New Zealand and elsewhere, fears of recession have increased.
For the Reserve Bank, a slowing economy is exactly what is needed to reduce inflationary pressure. With a labor market still very tight, the slowdown must be more than inconsequential. Yet no central bank wants to crush its economy. Indeed, the Reserve Bank's policy objective agreement includes an operational objective of avoiding "unnecessary instability in output, interest rates and the exchange rate".1. Currently, with markets pricing an OCR of around 4.5%, this implies term mortgage rates well above 6%. Economic risks appear to be biased towards a sharp slowdown in New Zealand, perhaps a slowdown that exceeds the appetite and mandate of the RBNZ.
Therefore, we believe that market prices have gone too far at present. At present, with inflation credibility in mind, the Reserve Bank is likely to continue to emphasize its determination to contain inflationary pressures and signal rate hikes. However, as the year progresses and further increases occur, we will be in an environment where monetary conditions are tightening and the economy is slowing more clearly. At this point, communication may change and the Reserve Bank may slow down the hiking path and monitor if further hikes will be required.
In this scenario, bond markets may become more stable and, over time, the valuation link with equity markets could see this first pillar put in place for valuations to stabilize across most asset classes.
With so many rate hikes currently priced in, we would need an even worse inflation outlook to trigger another significant rise in bond yields.
In support of this argument, longer-term bond yields now reflect a continued environment of inflation hovering around the top of the Reserve Bank's target range. At 4.25%, the New Zealand government 10-year equity yield indicates continued tight monetary policy as well as a term premium to compensate investors for inflation uncertainty (for learn more, see The end of the "Great Moderation? published last week). At around 5%, the current yield of Harbor's New Zealand bond funds is also significantly higher than in recent years.
At some point, we expect investors to stop looking in the rear view mirror at one of the worst periods on record for fixed interest yields, and instead look to the future. The positive impact of central banks taking inflation seriously is that savers tend to have greater confidence in the real returns they receive across all asset classes.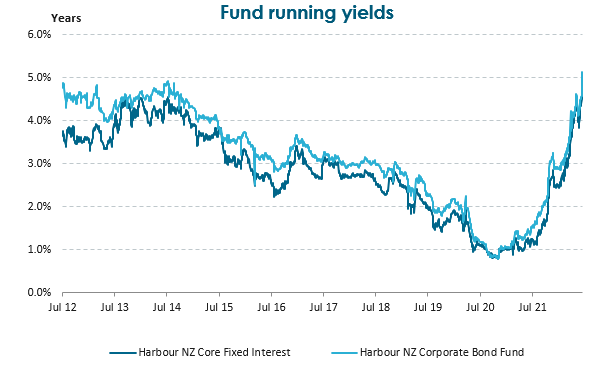 [1] Reserve Bank of New Zealand (Replacement of Mandate of Monetary Policy Committee) Order 2021.
---
*Mark Brown is Director, Head of Fixed Income at Harbor Asset Management. This article is used with permission and was first published here.
This article does not constitute advice to anyone.