Fundamentals
Wednesday, 2/3/2022, 7:00 a.m. PST. Meta, the old Facebook, is down about 25%. Amazon is down 6.4%. Facebook is down 25%. We have a massive sell-off, especially in tech stocks. The drop in tech stocks affects everything across the board, including gold and silver. Gold is down $18 and silver down 63 cents. There are rapid down markets for many assets.
The markets today offer incredible bargains. We continue to add lows to our top long positions in Gold, Silver and Bitcoin.
Today's headlines are linked to inflation. Eurozone inflation hit a new record high of 5.1%, prompting central banks to raise rates. The cost of living in Europe is rising rapidly. A sharp drop to 4.4% was expected. The euro hit new highs against the dollar. This will create hawkish rhetoric from the European Central Bank on inflation. The markets are affected. This forces many investors to liquidate their positions following margin calls.
At NASDAQ and other markets, it's an incredible sellout. If you want to get back into tech stocks, this is where you come in and add to your position. When it comes to inflation and hawkish rhetoric, it's all short term. This looks like the peak of inflationary fears we are having right now. You have to take into account that global debt is more than 130% of global GDP. Raising interest rates will only make things worse. On the one hand, they raise rates because of inflation, but on the other hand, governments have to borrow money to pay their debt at the new higher rates. One is inflationary and the other is deflationary. If interest rates rise rapidly, it will lead to massive yield curve distortions and widespread defaults around the world.
"It's a really tough place to be, if you're a central banker," said Patrick MontesDeOca, CEO of the Equity Management Academy. "All they can do is talk and create fear in the markets, and that's what they do. Don't let that fear keep you from seeing reality."
If interest rates rise sharply, you can see what is happening. Even hawkish rhetoric about raising rates leads to significant asset declines. Think of these pullbacks as buying opportunities. If they raise rates, they will have to lower them almost immediately or create more stimulus, which reduces the purchasing power of the US dollar, euro or any other currency.
Silver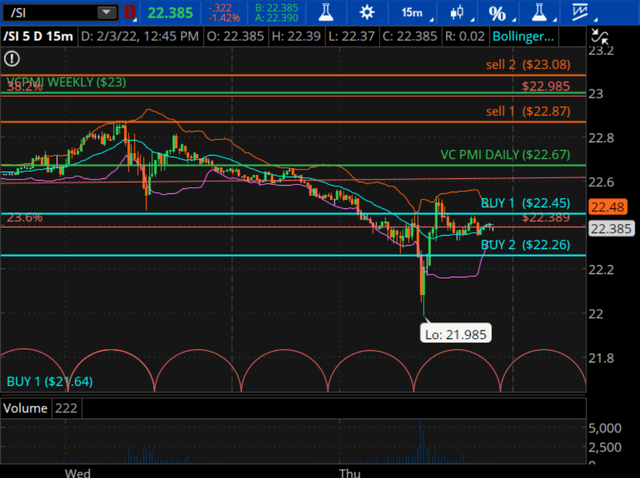 We use the Variable Changing Price Momentum Indicator (VC PMI) to technically analyze the markets. Silver hit a low of $22.02. We are at a major support level according to the VC PMI. For daily signals, the market is below the Buy 2 level, which means it is extremely oversold. The weekly and daily figures, up to $21.64, are in a blue zone, where stocks should start to come into the market. We should start to see support.
"We are oversold in a major support area," said Equity Management Academy CEO Patrick MontesDeOca.
If you're a day trader, you shouldn't have a position right now. Looking for price to break through one of the VC PMI pivot points, to the weekly signal at $21.64 or back above $22.26. The VC PMI algorithm sees that the lower the market, the higher the likelihood that buyers will start to re-enter the market.
Gold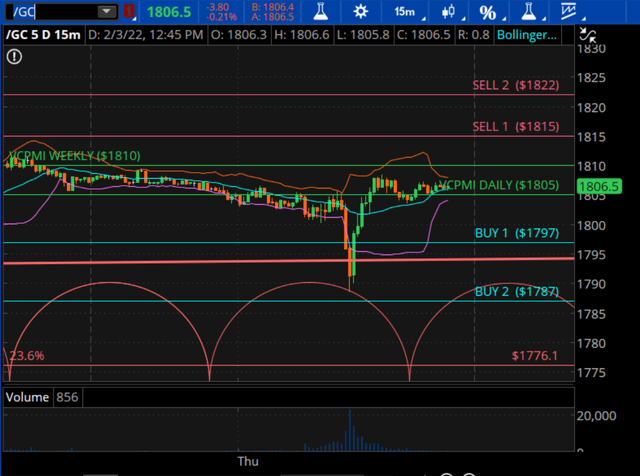 Gold today is similar to silver. We are in alert mode either to go down to $1787, which is the daily number, or to get back above $1810, which is the weekly and daily average. By doing so, he activated bearish price momentum and achieved the target. He is currently in the neutral zone. Already, gold is starting to see some demand coming into the market.
We recommend continuing to cover with DUST. If you have DUST, we recommend taking profit at around 20.45. The market seems to be adjusting to the cyclical pattern. We are looking for a rally after a correction to $1800 or $1780. We continue to reinforce our basic long position on these new lows.
Gold reached a buy trigger at $1800. We buy gold. We're starting to see the kind of comeback that the VC PMI is predicting, regardless of the news. Cover your shorts and start looking for buy triggers if you are day trading. Initial targets are at $1805 where you can start unloading. The weekly target is $1810.
Bitcoin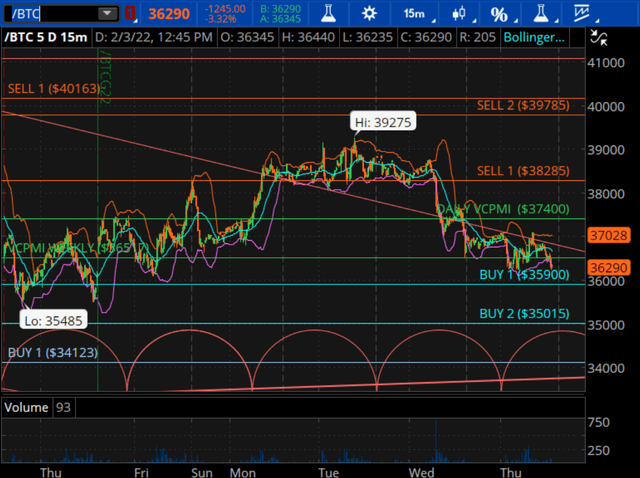 We are below the weekly average of 36,510. We are in a choppy area. The average price is a 50/50 standard deviation and we are at the weekly average price and below the daily average price. We hit 38,765 yesterday. Then we came back, activating bearish price momentum. It is now trading around the weekly average. We are now waiting for the market to descend to the daily Buy 1 level or activate bullish price momentum at 36,516 with a target of 40,163.